MITERED TIE-POLE
Used to secure poles to a wall. Mitered tie-poles are available in any specified length. AB-0202 brackets are used for pole-to-pole connections. AB-PC or AB-PL brackets provide an attractive connection back to the wall. Note: if shelves do not touch the wall, additional bracing may be required to prevent side-to-side racking.
TIE-BRACKET
Used to secure any Rakks pole to a wall. Tie-brackets have a PVC flange at the end that is screwed to the wall. One tie-bracket should be located at the top of the pole. Additional tie-brackets can be added for greater stability. Note: tie-brackets must be specified so that shelves touch the wall.

THREADED INSERT
Used to create a threaded channel in any pole. Facilitates the installation of cabinets or other components using 1/4-20 screws. Secures into pole channel with set-screws.
SPRING COMPRESSION KIT
Used with PL poles for installation between the floor and ceiling. 1-1/8" x 1-5/8" x 11-1/2" rectangular tube slides over pole. Spring and spacers allow for up to 4″ overall adjustment. Rubber top and bottom pads protect ceiling and floor. Note: poles should be cut 3" shorter than the finished floor-to-ceiling height.
SPLINE CONNECTOR
Used to connect sections of poles when floor to ceiling heights exceed inventoried lengths. Splines slide into pole channels and are secured using four 10-32 set screws. Two splines are required for each connection.
THREADED MOUNTS
Install into inserts at the top and bottom of PC2, PC4 and PD6 poles for installation between floor and ceiling. These non-skid, non-marking mounts allow for up to 2″ overall adjustment. Note: poles should be cut 3″ shorter than the finished floor-to-ceiling height.

ANCHOR BRACKETS
One leg of these L-shaped brackets slides into the pole channel and is secured with 1/4-20 set screws. The other leg can be used to anchor poles to the floor, ceiling or wall. Use two AB-0035 brackets for pole-to-ceiling connections. AB-0202 brackets can be used to make 90-degree pole-to-pole connections.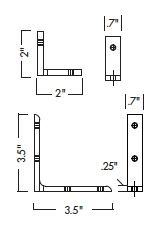 GROMMETS
Facilitate installation of PS4 and PD6 poles in through-counter installations. These machined Delrin inserts are epoxied into round holes cut into counter tops. Eliminates need to cut square or rectangular holes.
PANEL FRAMING CHANNELS
Used with Rakks poles to support and frame 1/4" decorative panels. Framing channels are manufactured to order to fit any panel width up to 4′. They lock securely into the pole and are held in place by channel nut plates. Available in Clear, Black and White.
CHANNEL NUT PLATES
Used for mounting light fixture, power strips, panels or other items to poles or standards. NP-0832 nut plate can be easily installed or removed from the front of the pole or standard. NP-0420 nut plate must slide into the end of the pole or into an access slot and should be used where a more secure attachment is required.
CHANNEL COVERS
PVC extrusion snaps into pole channels to cover opening for improved sanitation and cleaning. Available in 8′ lengths in Translucent and
Black PVC.
POLE CORNER ADAPTER
This adapter screws into the side of the PL Series pole and accepts a shelf bracket. It should be used only in corner conditions.
J-BOLT-ON BRACKET & J-OFFSET BRACKET
Used to attach J-hangbar to poles. The bolt-on bracket screws to the side of PL or PC2 poles. The offset bracket locks into the front or back channel and provides a 1-3/8" offset. Available in left, right and center configurations. More about our Hangbars.