Brackets Offer Distinctive Look and Functional Design
Well designed for maximum functionality, Rakks aluminum shelf brackets feature infinite adjustability. Manufactured from extruded aluminum and available in attractive anodized finishes, they are designed to attach to Rakks standards and pole supports without slots or visible hardware. Available in three basic styles – Rakks, Universal, and Aria – each of these brackets can be used to create a distinctive modern shelving system for any environment. Rakks and Universal Style shelving brackets are stocked in Clear anodized, Black anodized and White powder-coat finishes. Aria Style brackets are stocked in Clear and Black finishes only.
Merchandising and Display Needs
Our signature Rakks style shelf bracket combines an elegant design with exceptional flexibility and versatility. In addition to the many standard sizes and configurations, our made-to-order capabilities allow us to quickly and efficiently supply custom brackets to your exact specification. By adding notches, hangbars, stiffeners, retaining pins, and custom fabricated components—Rakks mounting brackets can be configured to meet any merchandising or display application you can imagine.
---
Rakks Style
Our signature Rakks Style bracket features a distinctive rectangular bar design that can support shelves up to 24" deep. Rakks style brackets are designed to "underhang" the shelf. These brackets can be specified and made to order in any useable length up to 24". Depending on length and load capacities, brackets are manufactured in 1-1/4" and 2" heights. Rakks Style brackets have excellent lateral support and work well as bookends.
Rakks T-Style
T-Style brackets have a PVC shelf coupler extrusion that is pinned to the top of the bracket creating a 1" wide horizontal support surface. The horizontal surface is pre-drilled with holes allowing shelves to be screwed to the bracket. Any Rakks Style bracket can be supplied in the T-Style. PVC extrusion is available in white, black or translucent. Specify as TB-XXX.
Rakks T-Style Lab Bracket
Provides a heavy duty alternative to the BU-012 Universal bracket. Used for 11"-14" deep shelves.
Universal Bracket
This tapered aluminum bracket is available in two sizes to support wood or glass shelves from 9″ to 14″ deep. The 1″ horizontal surface is predrilled with holes allowing shelves to be screwed to the bracket. BU-009, BU-012 is available in Silver, Black or White.
Aria Display Bracket
A two-piece aluminum shelf bracket that can support glass or wood shelves of various thicknesses up to 12" deep. This elegant display bracket comes in two configurations, one with matching top and bottom, the other using a small hold-down bracket on the top. Aria brackets are available in clear and black anodized aluminum and are secured with color matched set screws.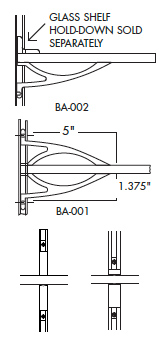 Rakks Floating Bracket
Fits into pre-cut channel of shelf to give a "Floating" appearance with no visible hardware. Used for light-duty display applications with 4" to 12" deep wood shelves, melamine or acrylic shelves.
Tray Bracket
A minimal profile, medium-duty support for shelves from 6" to 12" deep. Left, right and center brackets support shelves from the ends. When used with 1" thick shelves they create a near "floating" appearance.
Suspended Shelf Brackets
Rakks Suspended Bracket provides exceptionally strong, low profile support for 3/4″ thick wood shelves up to 12″ deep. When properly installed, suspended shelf brackets can support static loads up to 25 pounds per linear foot. Suspended brackets are supplied with predrilled and counter-sunk holes located 16″ on center. Mounting screws are provided. Suspended brackets are stocked in clear anodized aluminum and can be ordered in any lengths up to 96″.
Slatwall Brackets
Rakks extruded aluminum slatwall brackets provide sturdy and continuous support for wood, glass, or plexiglas shelving up to 12" deep. Available in two sizes to accept 1/4" and 3/4" thick shelves, these attractive low-profile extrusions can be ordered in specified lengths up to 95". Brackets fit standard wood slatwall panels without inserts.